What Is The Trade Value For Your Used Hot Tubs?

Trade-In Your Old Hot Tub & Trade-Up to a Hot Spring
Ready to upgrade? Your old/used hot tub could have a trade-in value that you could apply toward the purchase of a new Hot Spring® spa. With more powerful jets, state-of-the-art water care options, advanced energy efficiency, plus a comprehensive new warranty, now could be the perfect time for a brand new Hot Spring spa.
What's My Old Hot Tub Worth?
******We accept trade-ins on any brand of Hot Tub at Continental Pool and Spa!
---
Does Your Old Hot Tub Have This?
>  Easy Water Care
New Hot Spring spas are available with advanced water care options. The ACE® Salt Water Sanitizing System require less effort, so you can enjoy more time relaxing in your spa. It uses a special diamond electrode and a small amount of salt to keep your spa water clean.
> Wireless Entertainment Options
You can add one of our wireless entertainment options to any new Hot Spring spa you choose. With a Wireless TV and Sound System, you can transmit your favorite show or virtually any audio source from your home to your spa.
>  Moto-Massage® DX jet
Do you love your Moto-Massage jet? You'll love the Moto-Massage DX jet even more. Imagine two streams of warm water sweeping up and down the length of your back.  This revolutionary jet is one of the many unique jets available from Hot Spring Spas.
>  Energy-Efficient Features
Enjoy lower monthly operating costs with unique energy-efficient features only available from Hot Spring Spas. From heaters and pumps that use less energy to thicker insulation, we design every spa with efficiency in mind.
If not, don't worry! You're in luck.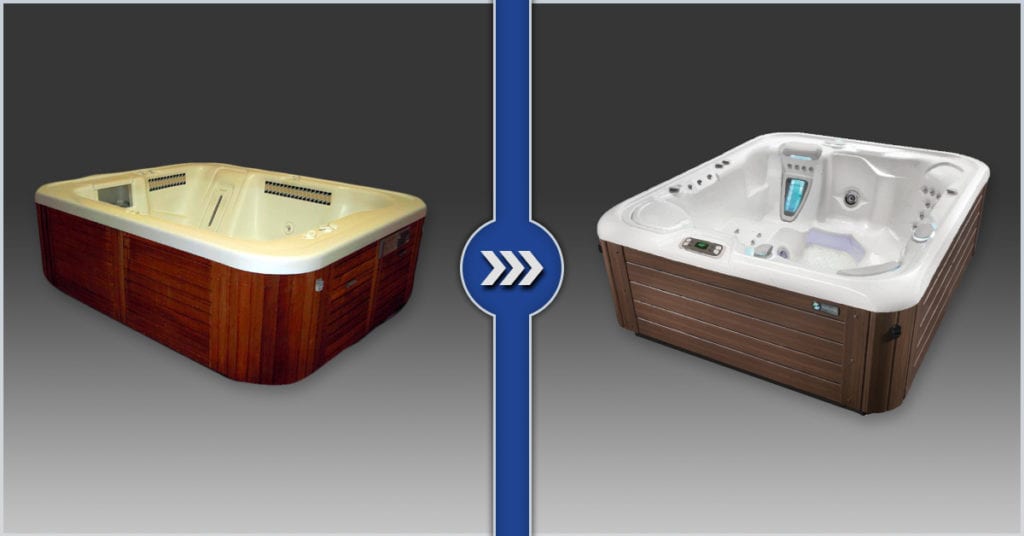 Going on now through the end of May, we're having a hot tub trade-in sale where you can trade in your old, beat up hot tub, no matter what condition it is in and receive up to $2,000 towards a brand new Hot Spring Spa's® hot tub! If you are thinking about upgrading your hot tub, now is the time!
BUT THAT'S NOT ALL! Starting May 19th, we are also having our Salt Water Hot Tub Sale. With the purchase of a new Hot Spring Spa, you will receive a FREE ACE® Salt Water Sanitizing System! That is a $1,700 value…for FREE! Trade-in your old tub to save BIG and get a free salt water system with your new tub–this is one opportunity you are NOT going to want to miss out on!
Find Out Your Tub's Trade Value
Shop For A New Hot Tub
Come down and see us at Continental Pool and Spa 7 days a week between 10am-6pm Monday-Friday, 10am-4pm Saturday or 12pm-4pm Sunday! Feel free to give us a call at 402-333-9025 or drop us an email for all of your pool and hot tub needs. We appreciate your business!