Welcome to Continental Pool & Spa!
---
Omahas #1 Pool & Hot Tub Company!
With over 100 years of combined professional experience.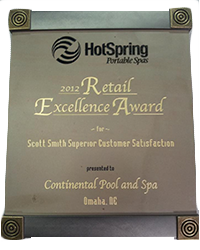 The Best Service
Continental Pool and Spa is Omahas leading pool and spa company, which has been serving the Omaha and surrounding community under the same ownership since 1981. We take pride in offering the best quality products from the industry's most reputable manufacturers. Including a complete line of pools, hot tubs/spas, chemicals, accessories, equipment, parts, toys, games and repair services.
The Best Reputation
We are not only dedicated to providing a quality product, but also unparalleled service after the sale. Continental Pool and Spa was the recipient of the Aqua Magazine Top 100. This distinguished award is presented to the top 100 retailers in the industry. We have been voted Best of Omaha since 2009 by Omaha Magazine. Have also received the Retail Excellence Award in 2012 from HotSpring Portable Spas as well as their Silver Club award for 1999 & 2014 for outstanding sales and service.
We invite you to visit our 5500 sq ft showroom located in Omaha,NE on the N.E. corner of 120th and Center. Come see the many operating models on display. Our knowledgeable and experienced staff will help you find everything you want and need.
68144 Omaha, NE

Phone: (402) 333-9025
Email: sales@cpsmail.net