Splash into Summer Savings at our Spring Chemical Sale!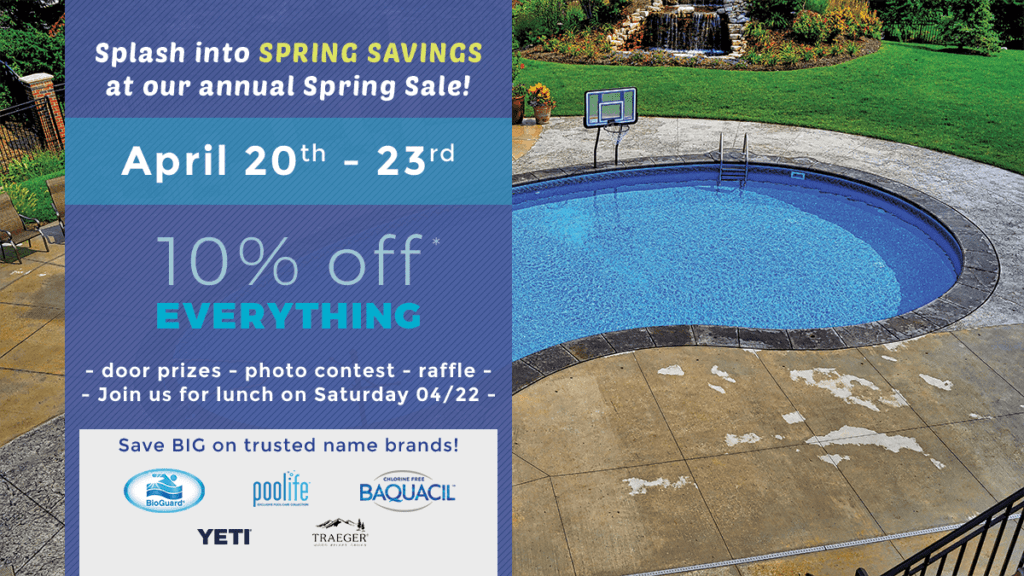 Everyone enjoys saving money on pool supplies, chemicals & accessories!
When it comes to swimming pool supplies and chemicals, ensuring that you are getting quality products for your money is just as important as discounted prices. Low quality, off brand pool chemicals can end up costing you more money in the long run, as you may well end up using more of a "cheaper" product than you would have used with a name brand product with a complete product line and a history of pool chemistry success. Additionally, "economy" brands of chemicals can be damaging to your liner, your equipment, and possibly your health.
At Continental Pool and Spa, we feature affordable products backed by some of the most recognized names in the industry, including Bio-Guard, Baquacil, and Poolife. Each of these product lines comes with a long history of quality innovations in water care management, and each has its own specific applications and purposes.
CPS Annual Spring Chemical Sale
And the good news is that from April 20th through April 23rd, all of our chemicals and most of our other merchandise will be available on sale for our lowest prices of the year. Our entire team will be on hand during this sale to make certain that you are getting the right products at the best prices. We will have your past year's sales records at our fingertips to let you know what products you used and how much you used last season. You will save significantly on your years' purchases by buying in bulk at the start of the season at our spring chemical sale. Our friendly, knowledgeable staff will be happy to answer any questions you may have, test your water and load your purchases into your vehicle.
Every customer who makes a purchase will receive an especially selected thank you gift from us. And if you come on Saturday the 22nd, we will be barbecuing for everyone! Stop in to save money. Stop in to get your water tested. Stop in to talk to old friends and meet new friends! Stop in for burgers and dogs and all the fixin's! We will also be holding drawings throughout the sale for great free merchandise.
And you will have the opportunity to win an awesome prize by posing for a photo with Conrad, the Continental Pool Boy, a magnificent specimen of abs and pecs who looks suspiciously like someone you know!
We have been holding this annual sale since we first started retail operations in 1985, and this year promises to be our best event ever. Come see what's cooking at Continental Pool and Spa, Omaha's leader in pool and spa sales, services, and supplies!
More than just a chemical sale….
Raffles and door prizes
Gift bags with purchase
Grill out & lunch on 04/22
Photo contest for prizes
Find more information on our Facebook Page!